Legal Framework
This data privacy policy is written to comply with the European Union General Data Protection Regulation (GDPR). GDPR gives specific data protection rights to individuals with regard to how their personal data is collected stored and used.
Who we are
Tindall Riley and Co Limited, along with its subsidiaries Tindall Riley (Britannia) Limited and Tindall Riley Europe Sàrl.
The Mutual Insurance Associations that we manage are: 
The Britannia Steam Ship Insurance Association Limited;
The Britannia Steam Ship Insurance Association Europe; and
The Wren Insurance Association Limited; and

 

The Griffin Insurance Association Limited.
We act as co-controller of the personal information collected and processed by the Mutual Associations.
We are the sole controller of the personal information of our staff. 
If you have any questions about our Privacy Policy, please contact our Data Protection Officer – Dan Wilkinson:
by email: dwilkinson@tindallriley.com
by phone: +44 207 407 3588
in writing : Regis House, 45 King William Street, London EC4R 9AN, United Kingdom
How we use personal information
For the purposes of this Data Privacy Policy "Personal Data" consists of any personal information which would reveal the identity of the owner either directly or indirectly in a private capacity. 
Tindall Riley & Co Limited only collects and processes personal information in the legitimate interest of conducting business with you, to prevent fraud or money laundering or to fulfil other legal, regulatory and contractual obligations. Some of the personal information we collect and process may be sensitive and include details on your personal health or medical records.
Examples of the type and sources of personal information collected and processed by us are set out in the table below: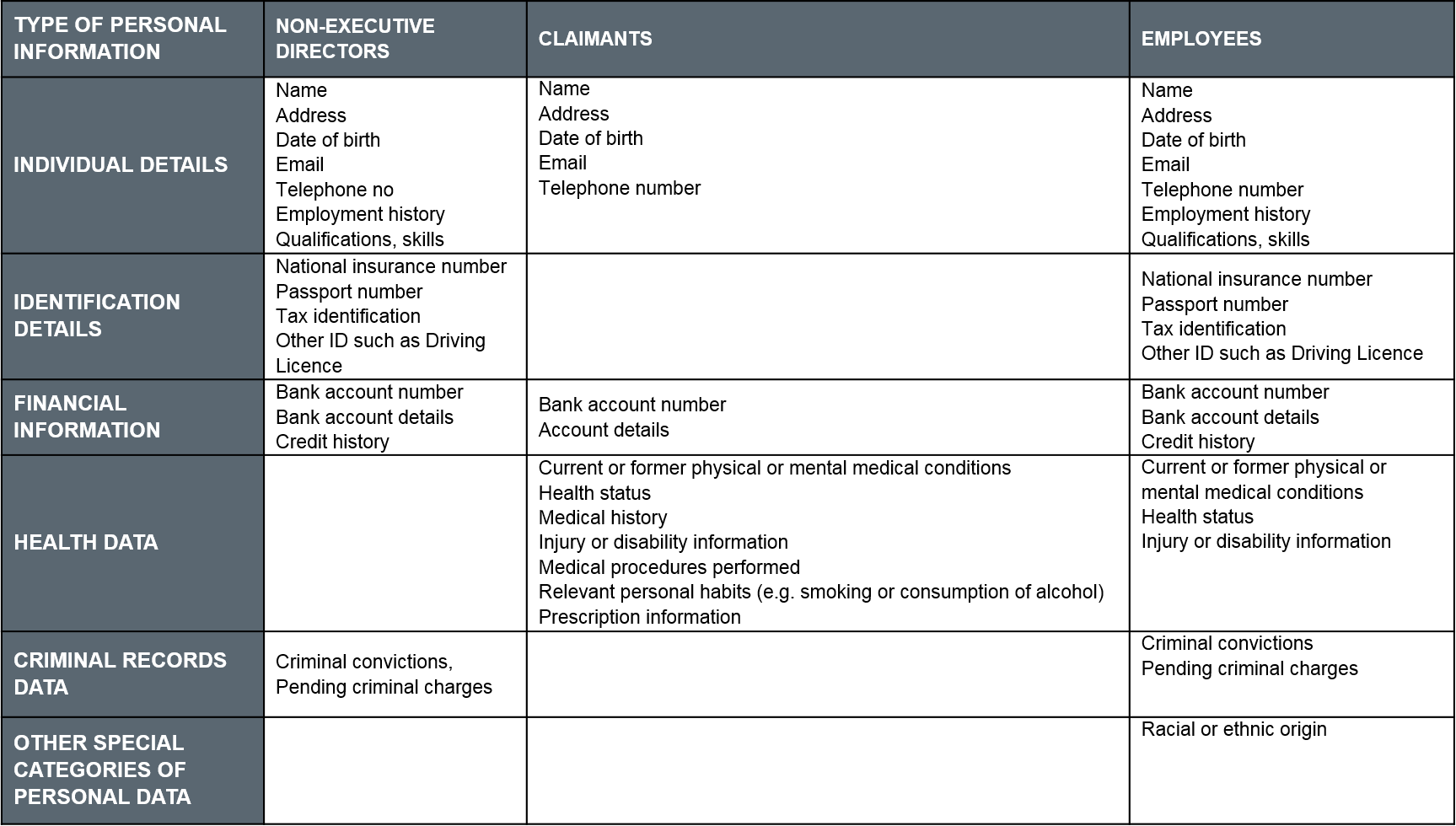 We sometimes need to share the personal information we collect and process with other organisations. Some of these companies are based outside of the European Union where different data privacy laws apply. In these circumstances, we have strict contractual terms in place to make sure that your information remains safe and secure.
We will not share your information with anyone else unless you agree to this, or we are required to do this by our regulators (e.g. the Financial Conduct Authority) or other authorities.
We do not use automated profiling. Details on how we use cookies can be found on our website 
Keeping your personal information
Our retention periods for personal information are based on business needs and legal requirements. 
We retain personal information for no longer than is necessary for the processing purpose(s) for which the information was collected, and any other permissible, related purpose. When personal information is no longer needed we either irreversibly anonymise the data (in which case we may further retain and use the anonymised information) or securely destroy the data.
How you can access your information and correct anything which is wrong
You have the right to request a copy of the information that we hold about you. If you would like a copy of some or all of your personal information please contact us by email or in writing as shown above.
We may make a reasonable charge for this service, or refuse to give you this information if your request is clearly unjustified or excessive.
We want to make sure that your personal information is accurate and up to date. You may ask us to correct or remove information you think is inaccurate.
Changes to our privacy policy
We keep our privacy policy under regular review and we will place any updates on this web page. This privacy policy was last updated on 29 March 2019.